Virginia Beach HO Racers
HO Slot Racing in Hampton Roads
Virginia HO Club Races
April 7, 2001 at Virginia Beach HO Raceway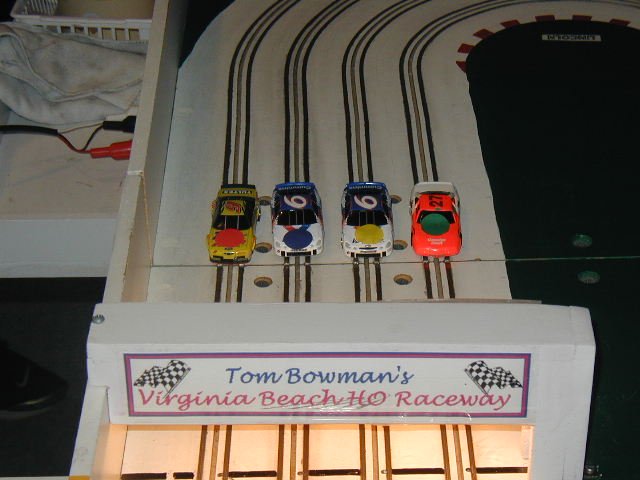 The Pro NASCAR T-jets, an exciting new class with highly modified ThunderJets, with current NASCAR bodies, from LifeLike and Tyco. They are very quick but a handful in the corners!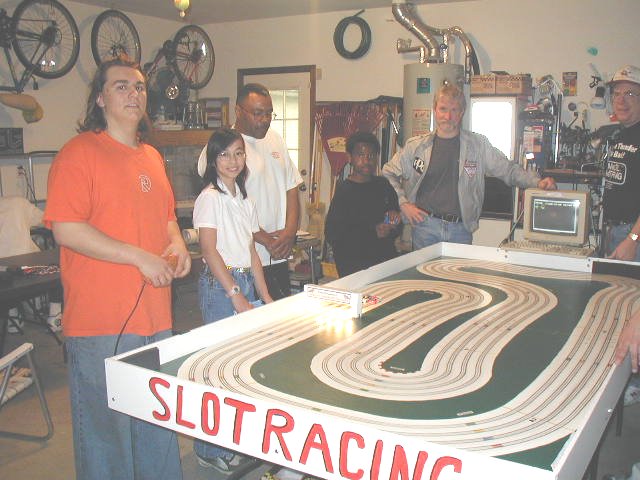 The racers of the Pro Tjet C Main, from the left: Aaron Weichbrodt, Jennifer Harrington, John Smith, and Dennis Thomas. John Peddy and Tom Bowman flank the TrakMate display.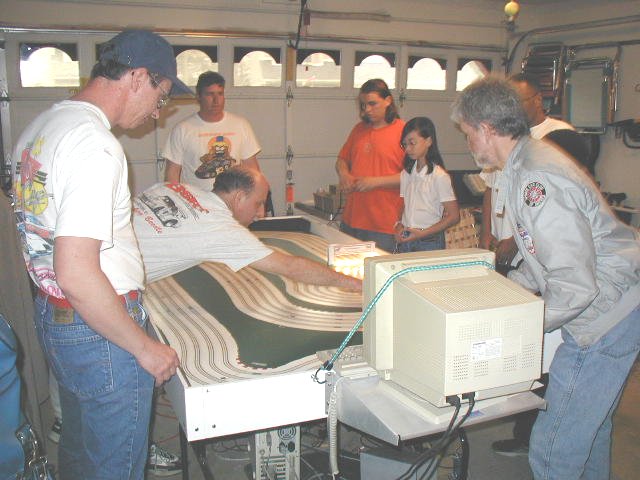 The marshalls for this heat, from the left: Eugene Harrington, Bob Weichbrodt, George Morley, and John Peddy.
This race brought together for the first time racers from the Richmond area, and Chapel Hill, North Carolina with the regular racers of the Virginia Beach HO club. We raced the standard Fray Tjets per the Ferndale rules, the new Pro Tjets with AHORA rules from Arizona, and last a box stock LifeLike race. The Pro Tjets proved to be a very popular class, the racers liked the freedom of using any arm, any magnets, any gears and any pickups with a sturdy, wide NASCAR body. These cars really like to rub in the corners, 'cause they sure do hang out the tail! We had racers of all ages, mixing it up from the 9 year old Scott Schmoyer, to AARP poster and birthday boy...Bob Weichbrodt! We won't even say anything, about the ancient race director, Tom Bowman...because he won't remember it anyway!
The Race Results
Virginia Beach HO Raceway
4 - 3 Minute Heats
Fray Class Tjets

                             

April 7, 2001
Driver
Home town
Qual time

 

Qual Pos
Total Laps
Finish Position
Tom Bowman
Virginia Beach
4.665
1
133
1
Jerry Schmoyer
Virginia Beach
4.959
2
125
2
Bob Weichbrodt
Chapel Hill, NC
5.48
8
120
3
Josh Bowman
Virginia Beach
5.388
6
113
4
tie
Aaron "AAA" Acox
Norfolk, Va
4.994
3
113
4
tie
John Smith
Norfolk, Va
5.427
7
109
5
tie
John Peddy
Chesterfield, Va
5.531
9
109
5
tie
Aaron Weichbrodt
Chapel Hill, NC
5.342
5
108
6
George Morley
Virginia Beach
5.599
10
99
7
Robin Edmonds
Glen Allen, Va
5.919
13
95
8
Scott Schmoyer
Virginia Beach
5.333
4
93
9
Jennifer Harrington
Chesterfield, Va
5.859
12
91
10
Dennis Thomas
Virginia Beach
5.735
11
87
11
Jake Morley
Virginia Beach
6.912
14
83
12
Virginia Beach HO Raceway
4 - 2 Minute Heats
Pro NASCAR Tjets
Driver
Home town
Qual time

 

Qual Pos

        

Red

       

Blue

    

Yellow

     

Green
Total Laps
Finish Position
Tom Bowman
Virginia Beach
4.849
2
23
23
23
23
92
1
Jerry Schmoyer
Virginia Beach
4.618
1
23
23
22
24
92
2
Bob Weichbrodt
Chapel Hill, NC
5.282
7
21
22
22
18
83
3
Aaron "AAA" Acox
Norfolk, Va
5.25
6
19
22
21
18
80
4
Aaron Weichbrodt
Chapel Hill, NC
5.382
9
20
21
19
20
80
5
Eugene Harrington
Chesterfield, Va
5.184
4
20
21
18
19
78
6
George Morley
Virginia Beach
5.139
3
19
20
20
18
76
7
John Smith
Norfolk, Va
5.704
11
17
20
19
20
76
8
Josh Bowman
Virginia Beach
5.201
5
20
20
20
15
75
9
Jennifer Harrington
Chesterfield, Va
5.411
10
18
18
19
19
74
10
John Peddy
Chesterfield, Va
5.331
8
19
20
21
13
73
11
Dennis Thomas
Virginia Beach
5.753
12
17
16
18
15
66
12
Virginia Beach HO Raceway
4 - 2 Minute Heats
NASCAR LifeLike Box Stock
Driver
Home town
Qual time

 

Qual Pos

        

Red

       

Blue

    

Yellow

     

Green
Total Laps
Finish Position
Tom Bowman
Virginia Beach
3.015
1
30
31
34
31
126
1
Bob Weichbrodt
Chapel Hill, NC
3.227
5
31
33
31
29
124
2
Josh Bowman
Virginia Beach
3.218
4
33
34
29
28
124
3
John Smith
Norfolk, VA
3.133
2
31
29
32
29
121
4
Aaron "AAA" Acox
Norfolk, VA
3.171
3
29
28
32
30
119
5
George Morley
Virginia Beach
3.746
8
26
28
25
26
105
6
Aaron Weichbrodt
Chapel Hill, NC
3.612
6
26
27
24
26
103
7
Dennis Thomas
Virginia Beach
3.639
7
24
25
23
21
93
8
<![if supportMisalignedColumns]> <![endif]>