The Virginia Beach
HO Slot Racers
September 8, 2002 Races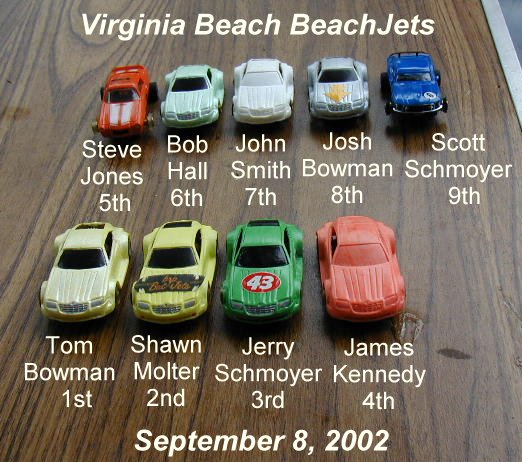 Shawn Molter's Kempsville Raceway hosted the September round of the Virginia Beach club's BeachJet and Super Stock races. Attendence was off a bit, because of the Richmond NASCAR races the previous night. But we did have Steve Jones visiting us, representing the Richmond racers. Steve got his first taste of BeachJet racing and he seemed to enjoy the relatively slow, sliding behavior of these cars. There was quite a battle for the top spots, and their racing was extremely close thoughout the field. Shawn finished just a foot ahead of Jerry!
Beach Jet Results
3.5 minute Main Event
1- Tom Bowman, Bat-Jet Crossfire GT, 81 laps
2- Shawn Molter, Bat-Jet Crossfire GT, 80 laps
3- Jerry Schmoyer, Bat-Jet Crossfire GT, 80 laps
4- James Kennedy, Bat-Jet Crossfire GT, 79 laps
5- Steve Jones, JL Camaro, 79 laps
6- Bob Hall, Bat-Jet Crossfire GT, 75 laps
7- John Smith, Bat-Jet Crossfire GT, 73 laps
8- Josh Bowman, Bat-Jet Crossfire GT, 63 laps
9- Scott Schmoyer, Nu-Rora Mustang Mach1, 61 laps
Then it was time for the fast cars, Steve had spent alot of time, giving us tips and helping with setup. James was setting a fast pace, that the rest of us couldn't match. John Smith was a quick learner, and turned in an awesome run to take second. Shawn and Tom had their own battle, proving there is some life, left in the P2. Steve cruised around, satisfied in helping John to a good result. Bob "Air" Hall demonstrated several times rather extreme aerial maneuvers, which had this been the X-Games would have been good for lots of bonus points. Josh struggled with equipment troubles, caused by his chief mechanic...but showed good speed, while in the slot.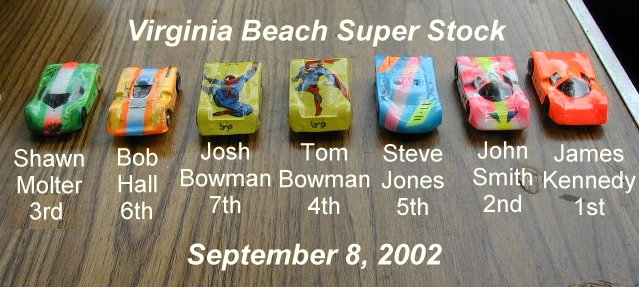 Super Stock Results
5 minute Main Event
1- James Kennedy, Patriot P3, 269 laps
2- John Smith, Patriot Scorpion, 261 laps
3- Shawn Molter, Patriot P2, 255 laps
4- Tom Bowman, Patriot P2, 249 laps
5- Steve Jones, Patriot Scorpion, 239 laps
6- Bob Hall, Panther, 210 laps
7- Josh Bowman, Patriot Scorpion, 208 laps