Dash Magnet testing
by Tom Bowman
I just received 12 pairs of the new Dash magnets, which are a great value at just $2.49 a pair. They are advertised as being strong as JL's and fit the T-jet chassis without sanding. Already the Dash magnets are legal to compete in the Fray. MASCAR approval should come with availability. First up in my testing, is the need to see how they compare in strength to the JL magnet. To do that, out comes the brp Magnet Matcher.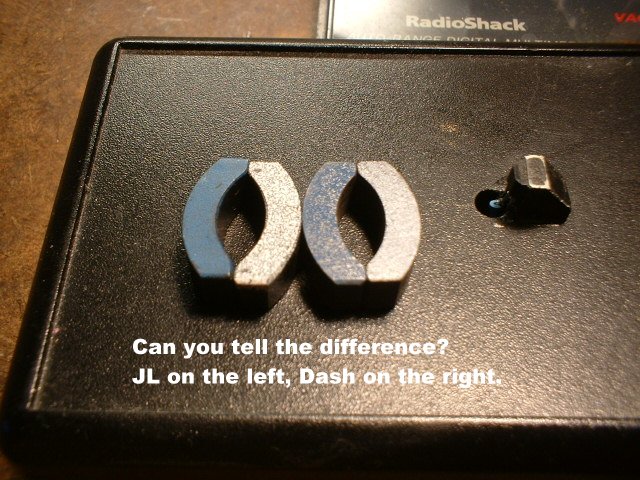 I'm going through all the Dash magnets and noting the strongest reading on the Magnet Matcher. They look very good and the north and south poles are very similiar in strength, and higher than JL magnets. I have 8 pairs of JL magnets and 4 pair of the newer AutoWorld magnets to compare to.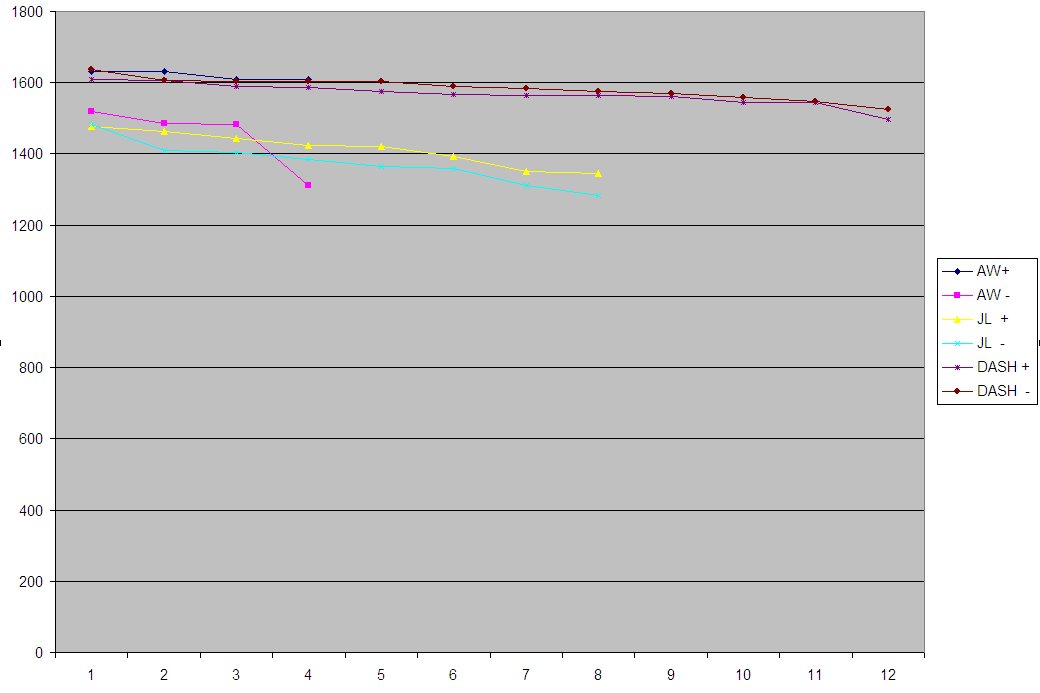 This chart shows each type of magnet, with the positive and negative readings. You can see the positive AutoWorld to be in the same range as the Dash, but the AW negative is usually weaker. The whole range of 12 Dash magnets are very consistent and much stronger than JL mags.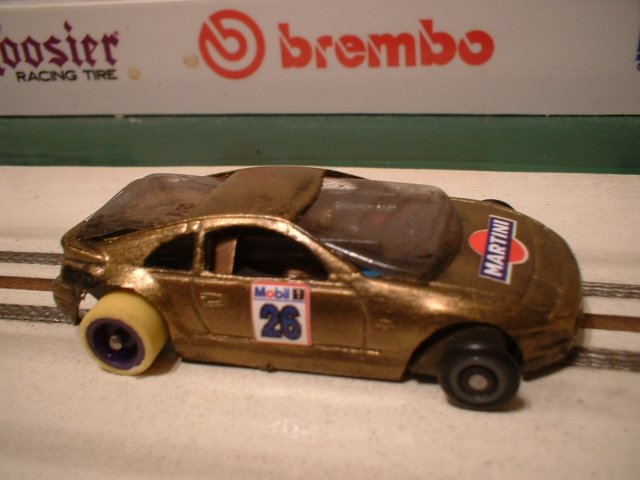 My fastest car, Bat-Jet Nissan 300ZX...ran it for 25 timed laps on VB HO Raceway and recorded at best lap of 3.885.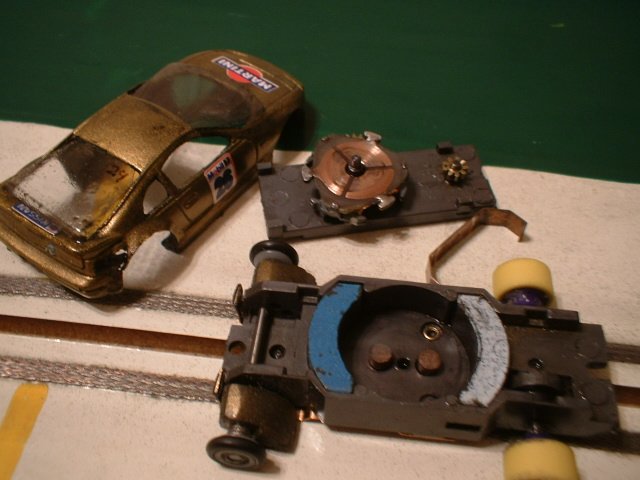 The JL magnets were checked on the Magnet Matcher, and + was 1459, - 1476.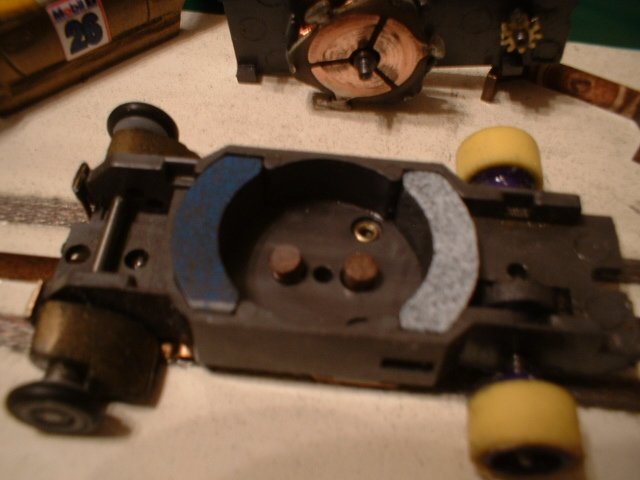 Fitted Dash magnets rated at 1607 on both poles, and the fit was tight, in the solid rivet # 9. I ran another 25 lap set, and recorded a best of 3.852...a good improvement on a 4 x 8 track!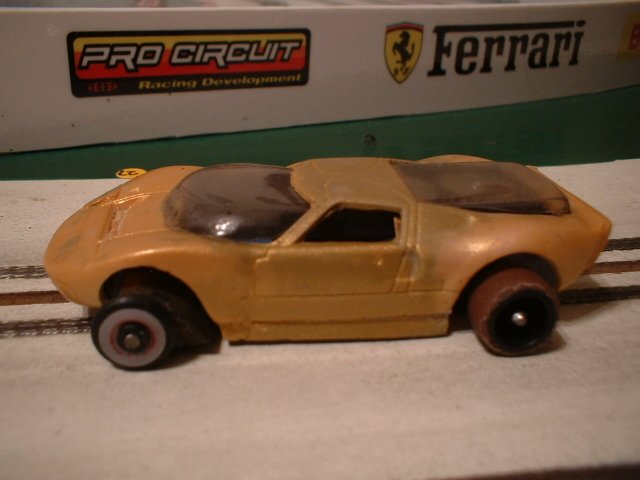 Test 2 car, is a Bat-jet '68-'69 Ford GT with a 12 tooth pinion...a bit of a handful on this tight track. 25 laps saw a best of 3.969 sec...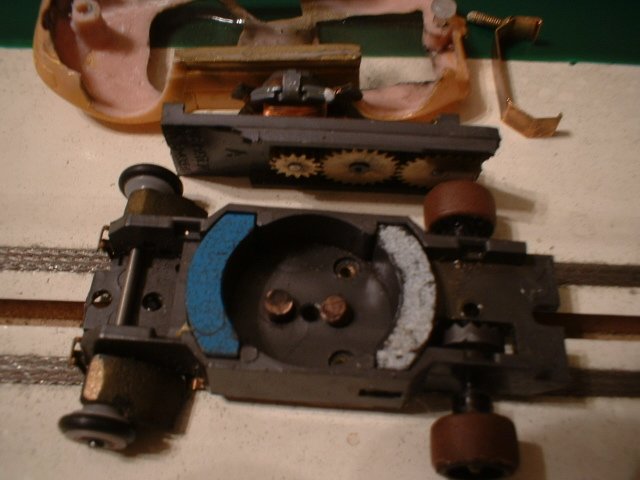 The JL mags rate +1489 and -1510 on the Magnet Matcher.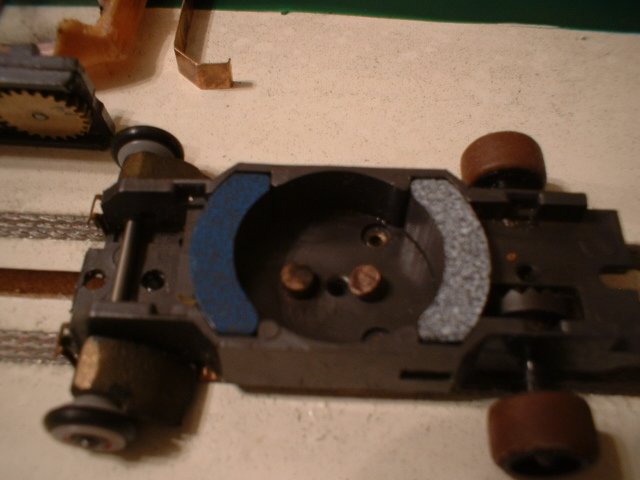 The Dash are a tight fit in this #3 open rivet chassis...ran 25 laps with a best lap of 3.985.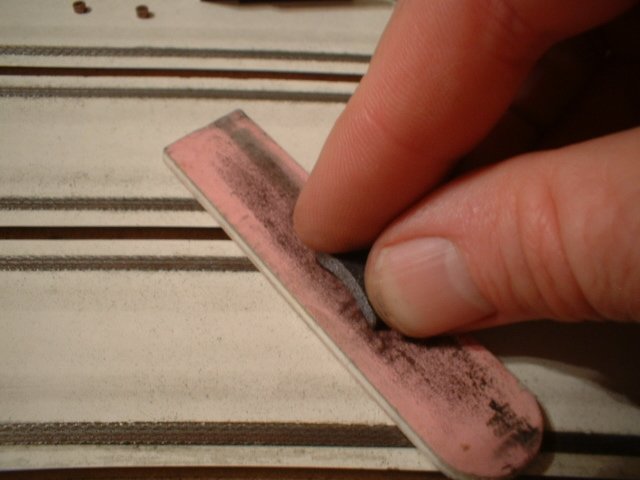 I sanded the face of each magnet to prevent chassis warpage. Ran another 25 lap segment with a best lap of 3.975. tried the strong set +1568 and -1576, and they required some sanding to fit. This was a disappointing test, only able to record a 4.212, with no punch. Next I tried a set that measured +1568, -1570...had to sand the faces quite a bit, especially on the + blue magnet. Everything back together, the car felt pretty quick although a real handful on this track. After 25 laps, the best of 3.958...a tad better than the JL's, but the car felt quick and should be better on a larger track. Might have to run it on Dan Mueller's great six lane routed track!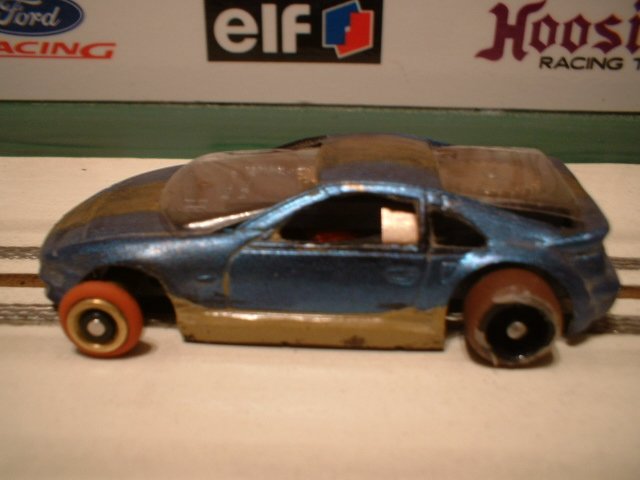 This Bat-Jet Nissan 300ZX ran a best lap of 3.988 in 25 laps on JL magnets.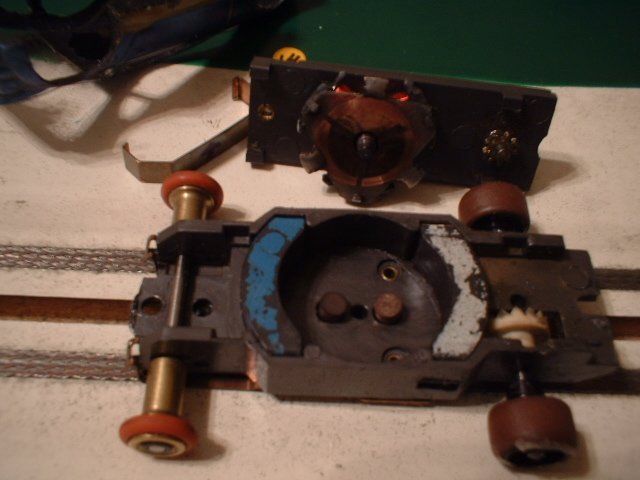 The JL magnets measured +1330 and -1338...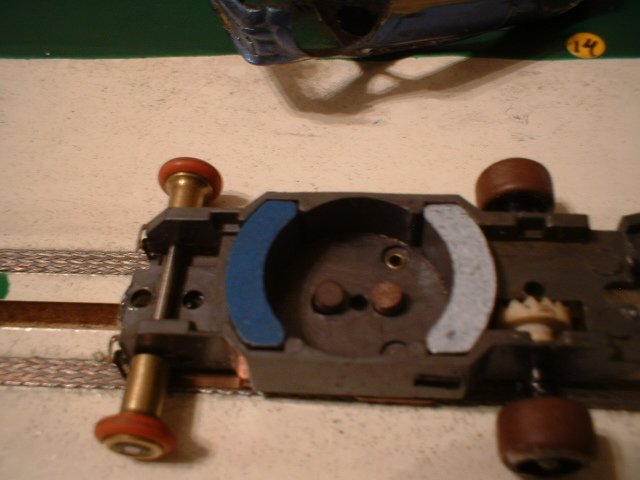 The Dash magnets fitted in the #8 open rivet chassis, were rated at +1568 and -1576 and they just dropped in, as advertised. Ran the 25 laps to record 4.068...maybe too strong? Fitted another pair of Dash magnets, toward the lower end of my 12 in strength, at +1544, -1547. Put it on the track and the car was immediately smooth and fast. Finishing the 25 lap run, the best lap was 3.811, knocking on the door of the lap record...and not even running an advanced front end!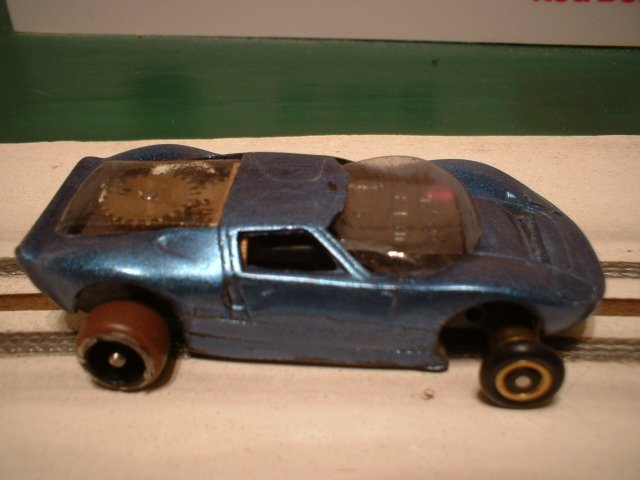 This Bat-Jet '68-'69 Ford GT ran a best of 4.003 in the 25 lap run...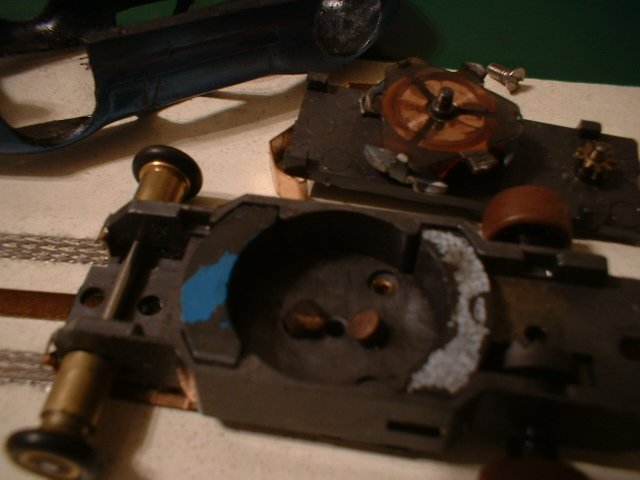 The rather tatty JL mags in this car measured, +1396 and -1368...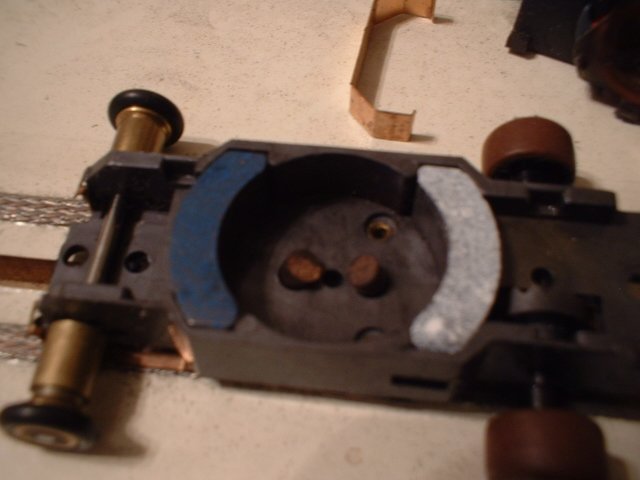 The fitted Dash magnets are rated +1603 and -1588...snug fit in the #9 open rivet chassis. Ran a best lap of 3.894 with the Dash magnets. All in all a very impressive product, at a fair price. Now there's no need to buy an AutoWorld car, just to get the magnets! ...TOM