---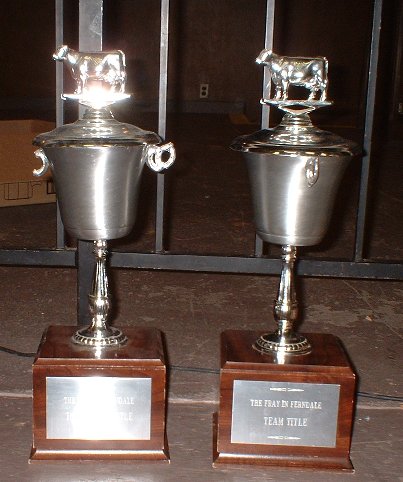 The Fray cow trophies, just a dream for us!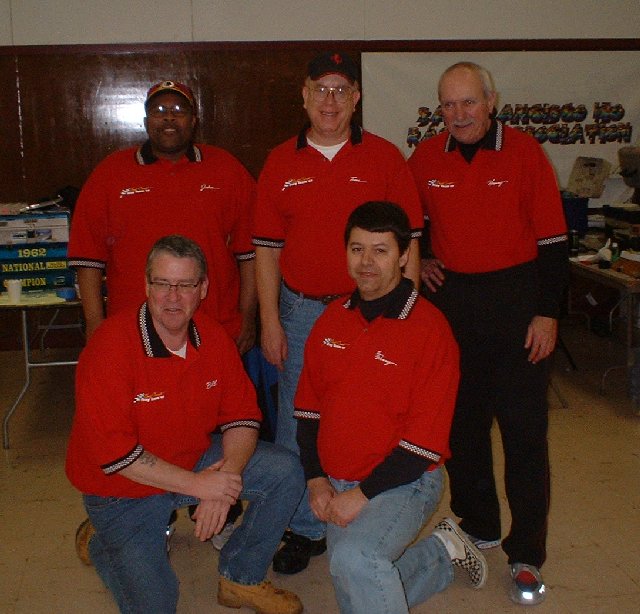 The 2007 East Coast Fray Team: (Back L-R) John Smith, Tom Bowman, and Henry Harnish.
(front L-R) Bill Kurtz, Lewis Wuori
The "Four Horseman" otherwise known as team East Coast, minus Henry, all flew in on the same Continental flight to Oakland on Tuesday. 'Ol Henry was doing his VIP best and jetting in to Arcata on Thursday and missing the five hour drive up 101 in the rain that his teammates enjoyed. Job one is collect the rent-a-racer, cleverly disguised as a Chyrsler minivan...and zipping in to San Fran to find some good food. First stop was Fisherman's Wharf, where we did find a sour dough bread bakery with a multi star restaurant top side. After a great lunch, watching the newest inmates check in at Alcatraz, Eric Eberman called inviting us over to the SFHORA digs on the other side of the city. So Tom got the "Bullet" Minivan in gear and blasted up and over Telegraph Hill and proceeded to get lost. Eventually we found Eric standing on the sidewalk waving us in...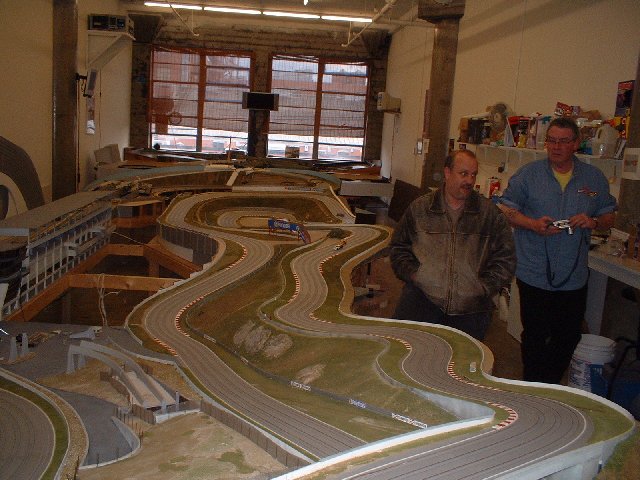 Here we see Eric showing Bill Kurtz the fabulous "Katz-Spa-Ring" undergoing restoration at the San Francisco HO Racing Association's headquarters. This great track was built by Brad Bowman and landscaped by Brad and Jason Boye for the biggest HO enthusiast I've ever had the privilege of knowing, Mr. Greg Katz. The track was in far better shape back in '03 when Team Wizzard visited Greg. That story is told on our 2003 Fray page. Unfortunately Greg past away, his house was sold and the track was cut apart to be put in storage. Now the Bay Area racers, lead by Eric Eberman, have put together a new home for the Katz-Spa-Ring, and bring the track back to life, memorializing Greg's Dream. It was hoped that the track would be running for our visit, but that was just a too ambitious goal for this year's Fray. Jason Boye is going to help restore the scenery, and the track itself should be functioning soon...with a 24 hour race being scheduled for May.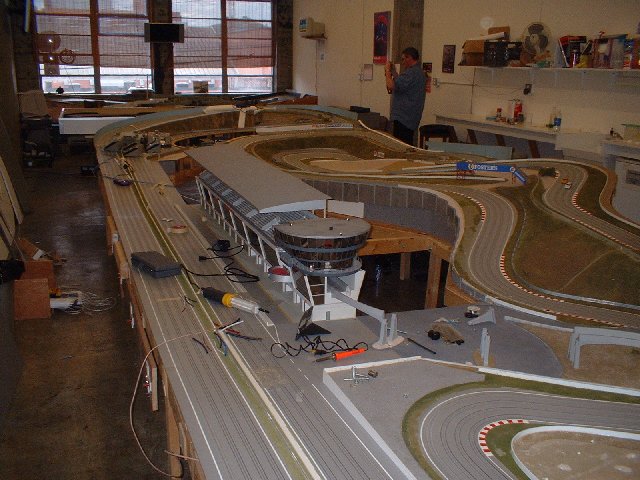 The massive front straight, realistic pit buildings...monorail still to be installed...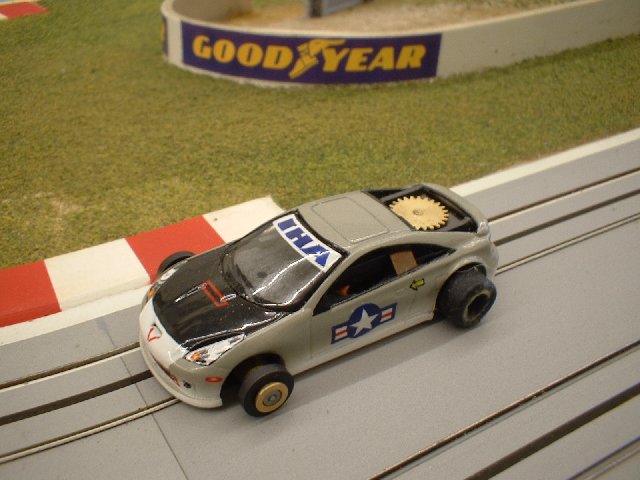 Another masterpiece from Bay Area artist, Jeff Hurley...The new beige and pink tracks below...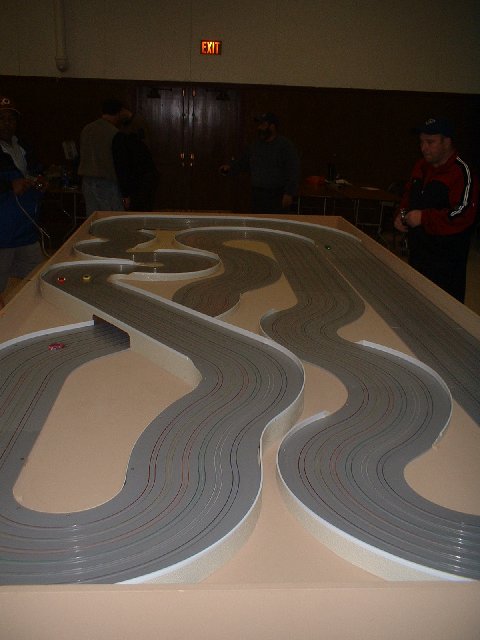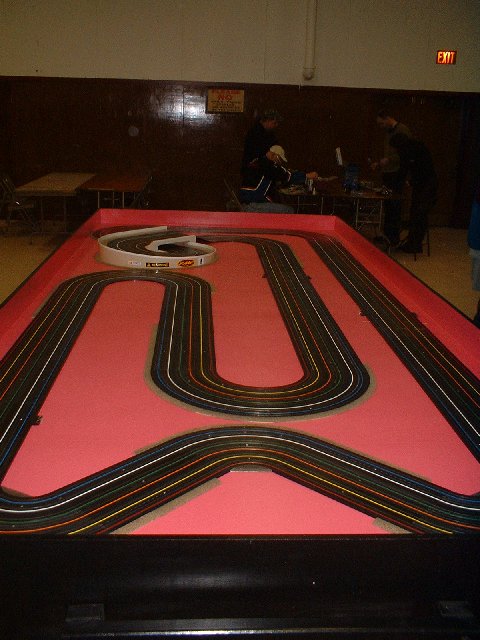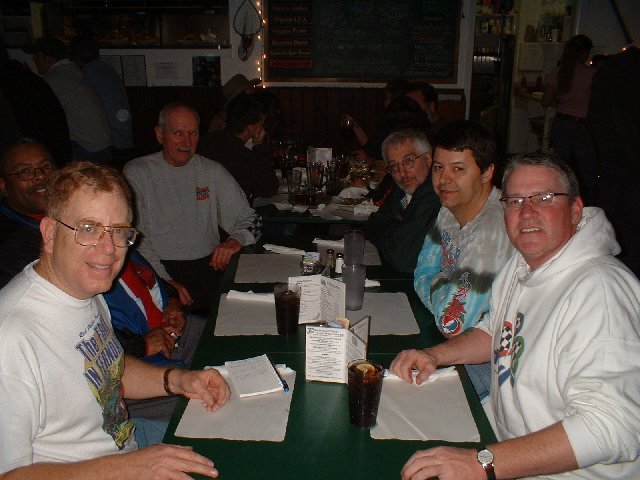 Pre-Fray training at the Eel River Brewery, the team joined by Bob "Mr. Aurora" Beers

TEAM STANDINGS:

1 South Park 13-0

2 Ferndale 12-1

3 FSMRA 10-3

3 Kansas City 10-3

5 Petaluma 8-5

6 Independence 7-6

6 MSCRC 7-6

8 SFO 6-7

9 South Bay 5-8

9 San Diego 5-8

9 Inland Empire 5-8

12 East Coast 2-11

13 Minnesota 1-12

14 Pac. North West 0-13

INDIVIDUAL STANDINGS:

1 Steve Nelson

2 Clint Bourne

3 Steve Ward

4 Scott Dunlop

5 Jeff Hurley

6 Trek Lawler

7 Rick Jochem

8 Andrew Keeling

9 Ken Stephens

10 Walter McClurg

11 Doug Brown

12 Eric Eberman

13 Ron Coaxum

14 Curtis Adams

15 Don Bourne

16 Steve Godinez

17 Tracy Huston

18 Paul Kniffen

19 Rick Machado

20 Dave Nier

21 Bill Lee

22 Charlie Karnes

23 Paul Weir

24 Jim Keen

25 Tom Bowman

26 Chris Lawler

27 John Habernal

28 Mark Owyang

29 Ty Brittian

30 Michael Hurtado

31 Dan Jiminez

32 Henry Harnish

33 Jamie Jorgensen

34 Greg Davis

35 Adam Wright

36 Rick Voegelin

37 Bob Raymond

38 Richard Okeson

39 Tim Leppert

40 Dave Carter

41 Mark Keeling

42 Micky Hurtado

43 Hiram Durant

44 Rick Martin

45 Don Royal

46 Matt Paul

47 Steve Testerman

48 Joe Giegel

49 Larry O'Neill

50 Chris Abston

51 Scott Ellis

52 Lee Novich

53 Victor Licauci

54 Mike Neeley

55 John Smith

56 Randy Chinn

57 Action Jackson

58 George Peters

59 Dave Rock

60 Bill Kurtz

61 Francis McEntee

62 Tony Varidi

63 Mike King

64 Nate Katz

65 Lewis Wuori

66 Tom Giese

67 Matt Bauer

68 Sonny Bretthorsts

69 Paul Josefy

70 Marion Okeson

71 Phil Laurio

72 Mike Block

73 Larry Norman

74 Alan Michel

75 Jim Stretch

ROOKIE OF THE YEAR:
Charlie Karnes

ALL FRAY TEAM:
Scott Dunlope San Diego
Clint Bourne South Park
Trek Lawler Independence
Rick Jochem South Park
Jeff Hurley South Bay



2007 Fray Team winners, Team South Park: (L-R) Doug Brown, Rick Jocham, Captain Steve Nelson, Clint Bourne, Greg Davis, and Don Royal.

A Main champions, congratulated by Rick Machado: (L-R) Clint Bourne, Steve Nelson holding the Cow trophy, Steve Ward, Scott Dunlop, Jeff Hurley, and Trek Lawler.
---
Links: